Flowers for pollinators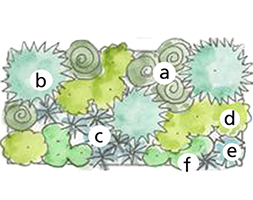 Open border plan
Pollinating insects should be welcomed into the garden with open arms as by just doing what they do naturally, they will increase the number of flowers (and fruits) you will have to enjoy. Many of the flowers that are rich in nectar (and therefore irresistible to bees and butterflies) look pretty good to us too! With that in mind, here's a colouful sun-loving combination that will be a throng of insects from spring until autumn.

You will need a sunny bed measuring 3m x 1.5m.


Buy all 30 items for the border
Sub Total£186.70
Promotions -£37.34
items included (click on thumbnail for more info)
Plant
Price
Qty.
Availability
Total
Penstemon 'Andenken an Friedrich Hahn'

beard tongue (syn. Garnet)

8
in stock
Achillea millefolium 'Lilac Beauty'

yarrow

7
in stock
Ajuga reptans 'Burgundy Glow'

bugle

1
in stock
Geranium sanguineum

bloody cranesbill

6
in stock
Cirsium rivulare 'Atropurpureum'

brook thistle

5
in stock
Aster × frikartii 'Mönch'

aster

3
in stock