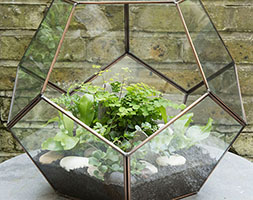 Terrarium & starter ferns combination
Position: bright, indirect light
Soil: fertile: good potting compost
Rate of growth: average
Hardiness: tender (indoors only)
Current height: approximately 10cm (including pot)
Create a striking contemporary twist on a traditional bottle garden with this fern and glass terrarium collection. Perfect for adding interest to bright spaces like conservatories and kitchens, the set includes 6 × 6cm pots of assorted ferns and a stylish brass terrarium to house them in.
Finished in antique bronze with sturdy sheet glass sides, the terrarium creates a self-contained micro-climate that will help the ferns flourish.
Please note: the ferns included are unnamed varieties. To help you create a diverse display, we'll send you as many different types as possible, with no more than 2 of each.
To find out more about how to plant a terrarium,
click here
Home care:
Water regularly in the growing season - less in winter and in areas of low humidity, mist the leaves with water on a regular basis. Maintain temperatures above 10°C in winter and avoid summer temperatures above 25°C.
Measurements:
W39cm x H37cm
Opening diameter 26cm
Crocus Special Offers
Buy all 6 items for the combination
Sub Total£29.94
Discount -£10.00
Total: £19.94
Availability: Unavailable
Please note some items are unavailable